Welcome
The personality test is composed of about hundred questions. You will not have results saying to you "you are this or you are that" but, respecting the complexity of the person, an open evaluation.
Preview sample:
Results of the test of the webmaster personality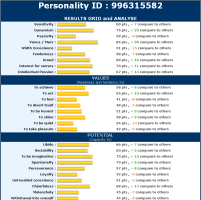 The evaluation quiz:
The quiz is made up of a hundred questions. That should take to you 12 minutes (instantaneous mean).
This test is one of most complete Web and especially it also enables you to be "compared to the others".
This test is very serious and is based on various psychological and philosophical studies on the structures of the character and personality. You won't find another test like it on the Internet. Moreover your results are compared to the results and means of other tested people. ( people)

BEGIN THE TEST
GET YOUR PERSONALITY-ID NOW

If you never took stock of your character,
it is the moment.